Erika Camacho Umaña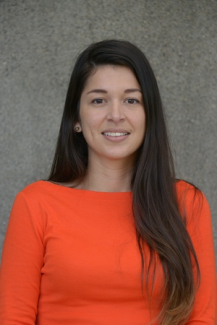 Instructor, Clodomiro Picado Institute, Faculty of Microbiology.
M.Sc. University of Costa Rica, 2014.
Lic. Microbiology and Clinical Chemistry, University of Costa Rica (UCR), 2009.
Erika Camacho Umaña
The research interests of Erika Camacho focus on the study of metalloproteinases found in the venoms of snakes in the Viperidae family; mainly the structural and conformational characteristics of these proteins and their pathologic effects. Her studies focus on topics related to the study of the structural determinants that influence the function of the hemorrhagic and non-hemorrhagic metalloproteinases, with the purpose of providing more knowledge about their mechanisms of action.
Publicaciones representativas de sus intereses de investigación
Salas-Campos, I., Camacho-Umaña, E., Hernández-Chavarría, F. (2013). Ultrastructural alterations induced by the essential oil of cinnamon in Fusarium solani isolated from onychomycosis. Rev. Biomed., 24(10), 21-23.
Van der Laat, M., Fernández, J., Durban, J., Villalobos, E., Camacho, E., Calvete, J. J., Lomonte, B. (2013). Amino acid sequence and biological characterization of BlatPLA2, a non-toxic acidic phospholipase A2 from the venom of the arboreal snake Bothriechis lateralis from Costa Rica. Toxicon, 3(73), 71-80.
Camacho, E., Villalobos, E., Sanz, L., Pérez, A., Escalante, T., Lomonte, B., Calvete, J. J., Gutiérrez, J. M., Rucavado, A. (2014). Understanding structural and functional aspects of PII snake venom metalloproteinases: characterization of BlatH1, a hemorrhagic dimeric enzyme from the venom of Bothriechis lateralis. Biochimie, 101, 145-155. doi: 10.1016/j.biochi.2014.01.00