Mahmood Sasa Marín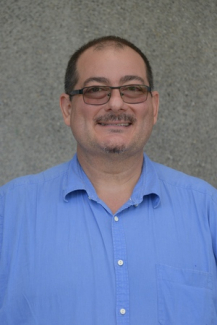 Senior Professor, Clodomiro Picado Institute, Faculty of Microbiology. 
B.S. in Biology, University of Costa Rica, (1990)
M.Sc. Biology, Texas University at Arlington, USA. (1996)
Ph.D. in Quantitative Biology, University of Texas at Arlington, USA. (2000)
Mahmood Sasa Marín
Mahmood Sasa is a biologist, specialized in zoology and quantitative analysis of biological data. He is a member of the Academic Division of the Clodomiro Picado Institute and a professor at the Faculty of Microbiology of the University of Costa Rica, where he teaches postgraduate courses in Biostatistical Methods and Experimental Design. 
He is also a member of the Postgraduate Program in Biology of the same university.  He has taught graduate and postgraduate courses on Tropical Ecology for the Organization for Tropical Studies (OET for its initials in Spanish), a consortium of universities dedicated to the research and teaching of environmental topics where the University of Costa Rica is the founding member. 
His areas of research include topics in herpetology, molecular systematics, tropical ecology, biogeography, evolution of envenoming mechanisms, analysis of biodiversity and biostatistics. He also participates in projects for biology conservation and management of protected wilderness areas. He is also interested in aspects of wildlife management and population ecology.
Today he is the director of the Palo Verde Biological Station administered by the OET. He is also a member of the Committee of Scientific Authorities, CITES-Costa Rica; the Representative of the UCR in the National Commission of Specialists in Crocodiles, SINAC-Ministry of Environment, Energy and Telecommunications; and a representative of the Costa Rican Network for Long Term Ecological Research. 
Publicaciones representativas de sus intereses de investigación
Sasa, M., & Bolaños, F. (2004). Biodiversity and conservation of Mesoamerican dry forest herpetofauna. In: Frankie, G., and A. Mata (eds.). Diversity and Conservation of Costa Rican Dry Forest. (pp. 177-193). California: U C Press.
Whitfield, S. M., Bell, K. E., Philippi, T., Sasa, M., Bolaños, F., Chaves, G., Savage, J. M., & Donnelly, M. A. (2007). Amphibian and reptile declines over 35 years at La Selva, Costa Rica. Proceedings of the National Academy of Sciences USA. 104(20), 8352-8356. doi: 10.1073/pnas.0611256104
Sasa, M., Wasko, D., & Lamar. W. W. (2009). Natural history of the terciopelo Bothrops asper in Costa Rica. Toxicon, 54(7), 904-922. doi: 10.1016/j.toxicon.2009.06.024
Sasa, M., Chaves, G., & Porras, L. W. (2010). The Costa Rican herpetofauna:Conservation status and future perspectives.. In Wilson, Larry David, Josiah H. Townsend, and Jerry D. Johnson. Conservation of Mesoamerican Amphibians and Reptiles. (pp. 509–603). Utah, USA: Eagle Mountain Publications, LC, i–xviii + 1–812 pp.
Wasko, D. K., & Sasa, M.( 2012). Food resources influence spatial ecology, habitat selection, and foraging behavior in an ambush-hunting snake (Viperdiae: Bothrops asper): an experimental study. Zoology, 115(13), 179-187. doi: 10.1016/j.zool.2011.10.001