Mariángela Vargas Arroyo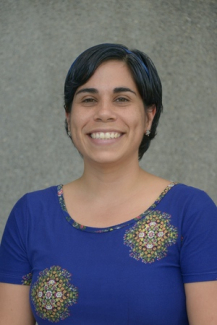 Researcher of the Technological Development Section, Industrial Division, Clodomiro Picado Institute, Faculty of Microbiology.
Ph.D. in Science, University of Costa Rica, 2015.
M.Sc. in Sciences, with an emphasis in Biotechnology, Monterrey Institute of Technology and Higher Education (ITESM) Mexico, 2009.
B.S. in Biotechnology Engineering, Technological Institute of Costa Rica, 2006.
Mariángela Vargas Arroyo
Mariángela Vargas is a part of the Technological Development team of the Industrial Division. Her researches focus on the improvement of antivenoms from the point of view of productivity, efficacy, safety, and stability. She has participated in the development and improvement of the PoliVal ICP antivenom, of liquid formulations of antivenoms stabilized with osmolytes, TaipanOx-ICP antivenom against Papua New Guinea snakes, and other pre-clinical studies. Furthermore, she researches the development of new products from human and equine plasma derivatives. Thanks to her training in bioseparation of biomolecule processes, she has contributed to the development and assessment of a methodology to purify proteins from human plasma derivatives, specifically, immunoglobulin of intravenous use and human albumin.
Publicaciones representativas de sus intereses de investigación
Segura, Á., Herrera, M., González, E., Vargas, M., Solano, G., Gutiérrez, J. M., León, G. (2009). Stability of equine IgG antivenoms obtained by caprylic acid precipitation: Towards a liquid formulation stable at tropical room temperature. Toxicon, 53(6), 609-615. doi: 10.1016/j.toxicon.2009.01.012
Segura, A., Castillo, M. C., Núñez, V., Yarlequé, A., Gonçalves, L. R., Villalta, M., Bonilla, C., Herrera, M., Vargas, M., …Gutiérrez, J. M. (2010). Preclinical assessment of the neutralizing capacity of antivenoms produced in six Latina American countries against medically relevant Bothrops snake venoms. Toxicon, 56(6), 980-989. doi: 10.1016/j.toxicon.2010.07.001
Vargas, M., Segura, A., Herrera, M., Villalta, M., Estrada, R., Cerdas, M., Paiva, O., Matainaho, T., Jensen, S. D., Winkel, K. D., León, G., Gutiérrez, J .M., & Williams, D. (2011). Preclinical evaluation of a caprylic acid fractionated whole IgG antivenom for the treatment of envenomings by Oxyuranus scutellatus canni in Papua New Guinea. PLoS Negl Trop Dis, 5(5), e1144. doi:10.1371/journal.pntd.0001144
Vargas, M., Segura, A., Herrera, M., Villalta, M., Angulo, Y., Gutiérrez, J. M., León, G., Burnouf, T. (2012). Purification of IgG and Albumin from Human Plasma by Aqueous Two Phase System Fractionation. Biotechnolog y Progress, 28(4), 1005-1011. doi: 10.1002/btpr.1565
Segura, A., Vargas, M., León, G., Villalta, M., Herrera, M., Angulo, Y. (2012). Método para la producción de formulaciones inyectables de productos proteicos hemoderivados y productos obtenidos utilizando dicho método. Solicitud de patente Publication Number: WO 2012/136172 A1. Recuperado de https://www.google.com/patents/WO2012136172A1