Clodomiro Picado Chair will Boost Solutions to Domestic Health Issues
Initiative will bring together students, professionals, and community
At the request of the Microbiology School and Instituto Clodomiro Picado, the Vice-Rector of Teaching created the Clodomiro Picado Twight Commemorative Chair: Microbiology and Society. This chair is aimed at creating a space for reflection, dialog, and debate about topics that involve different aspects of the relationship among Microbiology and society, regarding the implications of this discipline with historical, social, economic, political, and cultural subjects.
Jenniffer Jiménez Córdoba, Journalist of the Divulgation and Information Office
Fuente: Costa Rica University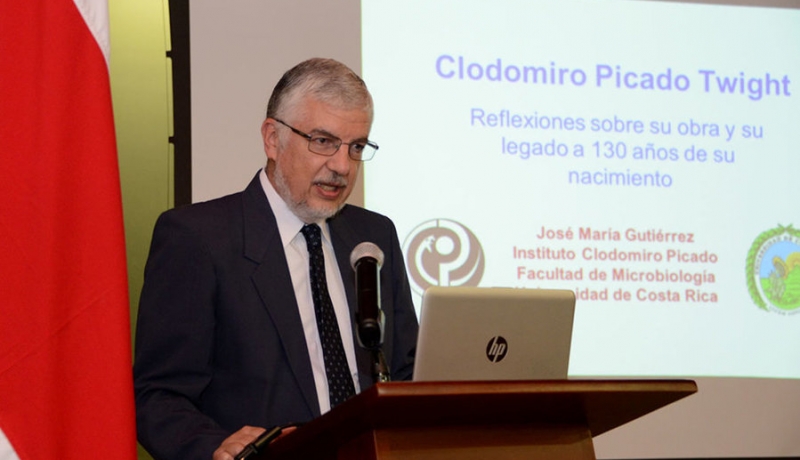 The development of Microbiology in Costa Rica arises due to the pioneering work of Doctor Clodomiro Picado Twight; consequently, with the creation of this chair, the University of Costa Rica (UCR) seeks to honor this well-known national scientist and Meritorious of the Motherland, as well as to highlight the social and philosophical fundaments that guided his work. Doctor Picado Twight is a model of a scientist engaged with the social milieu worthy of being emulated; he sought to have an impact on topics of national interest and attained valuable contributions to public health.
Doctor Clodomiro Picado developed an important pioneering work studying snakes and their venoms during the 1920s and 1930s. Clodomiro not only was interested in biological studies of snakes, but also was concerned about the reality of many peasants who died or resulted seriously injured because of venomous snakebites. As a result of his hard work, the Law for Defense against Snakebite Envenomation (Ley de defensa contra el ofidismo) was enacted in 1926, establishing the obligation of the Costa Rican State to ensure the health of citizens that are victims of venomous snakebites.